It's Always a Good Time at TFS!
Student life at the Franciscan School is faithful to the mission of educating the whole person. The purpose of the physical education program (sports and games) is to:
Encourage a healthy lifestyle and an enduring love for physical activity

Teach and develop essential skills with an emphasis on broad student participation

Nurture teamwork and goal setting

Develop leadership and help students cope with adversity and disappointment

Appreciate the gifts in others

Be welcoming hosts, good sports, and ambassadors

Be humble in victory and gracious in defeat
The athletic program promotes and combines Catholic values with community, leadership, reverence, and service.
The athletic program promotes and combines Catholic values with community, leadership, reverence, and service. In addition to developing good sportsmanship, team building, self-reliance, responsibility, and self-discipline.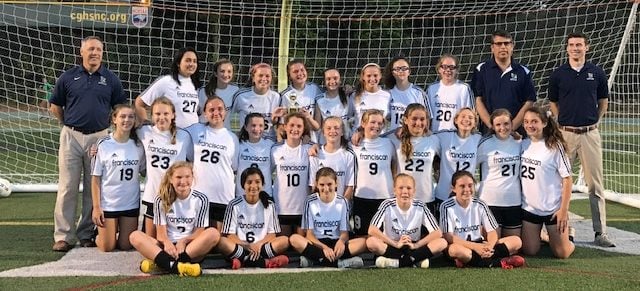 Student Clubs & Organizations
The Franciscan School strives to create a faith-filled environment that draws each member of this community closer to Christ.
Each day begins with Morning Prayer in the Courtyard. The entire school community participates in Gospel Share, Morning Praise, and weekly all-community liturgy at the St. Francis of Assisi Church, and student-led liturgies on feast days.

Early Morning Care & After School Program
Due to staffing limitations, Bridges is at capacity and no longer accepting accepting registrations.
The Bridges Program provides the opportunity to extend learning and fun to the beginning and end of each school day. We offer homework assistance, inside & outside play, arts & crafts. Early Morning Care begins at 7:00 AM and the After School Program ends at 6:00 PM. Full and part time options are available for both.
Early Morning Care is available from 7:00-7:40 AM Monday through Friday for grades K-8 in Jacoba Hall. In the event of a school delay, Early Morning Care will also be delayed.
The After School Program operates Monday-Friday between the hours of 2:40 and 6:00 PM. Bridges is open on select early release and teacher workdays, but does not operate on holidays.
If school is dismissed or canceled due to inclement weather, we will also cancel Bridges for the day.
Program related questions can be directed to the Bridges Coordinator, Victoria Lyles-Savage, at Victoria.Lyles-Savage@stfrancisraleigh.org. Direct all billing questions to Lisa Cardello-Price at Lisa.Cardello-Price@stfrancisraleigh.org or 919.534.4837 ext. 253.
The counseling program at The Franciscan School aims to support students in having the best school experience possible. If there are emotional or social issues having a negative impact on a student's ability to learn, the school counselor will work with the student to help him or her to be successful.
Counseling for students at The Franciscan School includes individual counseling for a set amount of time, small group counseling, and classroom guidance lessons. Students may be self-referred or referred by a teacher, administrator, or parent.
The school counselor is also an integral member of a student's educational team and assists in providing observations and writing behavioral plans. As well as consulting with teachers and partnering with parents to reinforce positive school behaviors. And to help address student problems as they affect a child's learning.
In addition, the school counselor serves as a liaison between The Franciscan School and outside resources to include when outside assessing is needed to determine how best to serve a child. After testing is completed, the counselor communicates special needs to the appropriate teacher and works with the Educational Support Team to provide support and assistance.
Laureen Wacenske, School Counselor
919.534.4837 ext. 314
Commencement at TFS is not graduation but a ceremony recognizing the faith and academic milestone of each student. The TFS Commencement is thus a sending-out of our 8th graders into the world to continue to develop and share their gifts.
We coordinate a full day of activities, with commencement held prior to Memorial Day weekend, allowing you time to celebrate with your extended family over the holiday weekend.