Vision
In reflection of our patron, St. Francis of Assisi, The Franciscan School is dedicated to an education that fosters a Christ-centered way of living and celebrates the building of the Kingdom of God on Earth.
Mission
Inspired by our patron Francis of Assisi, we seek to proclaim the reign of God by growing in Holiness through our experience of Christ in word, sacrament and one another, offering Hope to those who hunger for human dignity and extending Hospitality to all.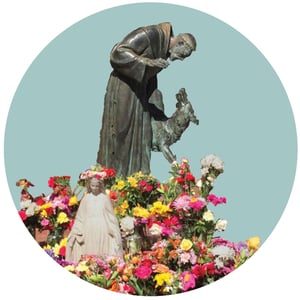 The Franciscan School History
Founded as part of the 35-acre parish, our campus acts as a ministry and testament to the Franciscan tradition.

Today, The Franciscan School is not only one of the largest private schools that serves grades K-8 in Raleigh, North Carolina, but in the United States as well. We nurture our students in a prayerful environment with Catholic traditions and Christian values. Our students graduate with a knowledge of self and a compassionate heart. They leave TFS rooted in faith, educated in mind, and deeply responsive in service to others.
Is The Franciscan School Accredited?
The Franciscan School is accredited by Cognia, formally AdvancED. Also approved by the Roman Catholic Diocese of Raleigh and is a member of the National Catholic Educational Association. Additionally, the school complies with the North Carolina Guidelines for Non-Public Schools.
Are The Teachers Certified?
A classroom teacher in the Diocese of Raleigh is required to be licensed or in the process of being licensed by the North Carolina Department of Public Instruction. Teachers with less than three years of verifiable experience must participate in the Initial Licensing Process (ILP) which is coordinated by the Catholic Schools Office ILT coordinator.
In maintaining a continuing license, all teachers are required to follow the guidelines of The Diocese of Raleigh License Plan which is approved by the North Carolina Department of Public Instruction.
Can I Attend The Franciscan School If I Am Not Catholic?
The Franciscan School does not discriminate based on race, color, national or ethnic origin, religious background, or gender. We welcome families of all faiths who are seeking an education in a Catholic environment.
What Is The Maximum Class Size?
K-2 – approximately 20 students per class.
3-5 – approximately 25 students per class.
6-8 – No more than 29 in any class; approximately 25 in Core classes.