Before School/After School Care
Bridges Program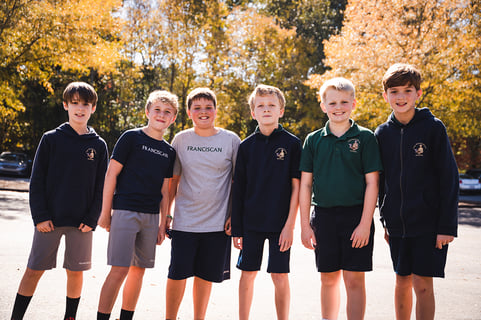 The Bridges Program provides the opportunity to extend learning and fun to the beginning and end of each school day. We offer homework assistance, inside & outside play, arts & crafts. Early Morning Care begins at 7:00 AM and the After School Program ends at 6:00 PM. Full and part time options are available for both.
Early Morning Care is available from 7:00-7:40 AM Monday through Friday for grades K-8 in Jacoba Hall. In the event of a school delay, Early Morning Care will also be delayed.
The After School Program operates Monday-Friday between the hours of 2:40 and 6:00 PM. Bridges is open on select early release and teacher workdays, but does not operate on holidays.
If school is dismissed or canceled due to inclement weather, we will also cancel Bridges for the day.
Program related questions can be directed to the Bridges Coordinator, Victoria Lyles-Savage, at Victoria.Lyles-Savage@stfrancisraleigh.org. Direct all billing questions to Lisa Cardello-Price at Lisa.Cardello-Price@stfrancisraleigh.org or 919.534.4837 ext. 253.