"The young people of this generation have such amazing potential, and the insight and gifts that
they share with me every day are simply amazing." In a world riddled with a global health crisis and constant discord, these words spoken by TFS teacher Melissa Walsh could not be more refreshing. But Walsh isn't just a TFS teacher; she also graduated from TFS in 2009 and is a part of the parish community.

After spending five and a half years at TFS, Walsh went on to attend Cardinal Gibbons High
School and the University of North Carolina at Chapel Hill. Although it was at UNC-Chapel Hill
that Walsh pursued her calling to be a teacher, her roots at TFS were foundational to her career
path. "Every piece of who I am as a teacher is made up of little pieces of who my teachers
were," says Walsh. "TFS gave me such an amazing quilt, focused on love and support." School
Counselor Laureen Wacenske has continued to be one of Walsh's biggest supporters. TFS
Science Teacher Carolyn Moser taught Walsh how to have a dedicated work ethic and pursue
her passionate interests. TFS teachers Stacey Kababik and Lisa Kowite inspired Walsh with
their incredible teaching skills and love of learning.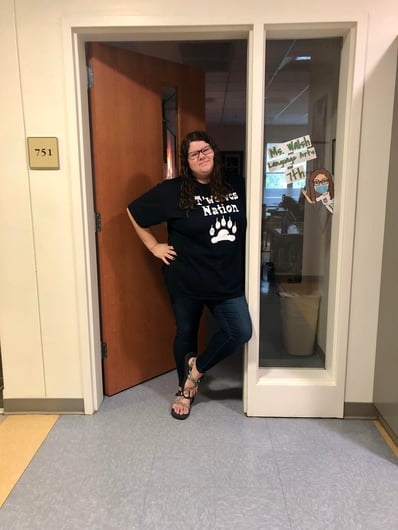 But Walsh's love for TFS didn't end with academics.

Walsh was a part of the school's inaugural softball team and enjoys seeing how it's grown over
the last 15 years. Her fifth grade field trip to Blue Jay Point remains a meaningful memory of
gaining outdoor skills that incorporated hands-on learning.

As Walsh has moved from student to teacher at TFS, she recognizes how important Catholic
education is to her. "Infusing my faith with my classroom instruction is something that I feel so
blessed I'm able to do. I truly feel as if my role in the Body of Christ here on earth is fulfilled
through education."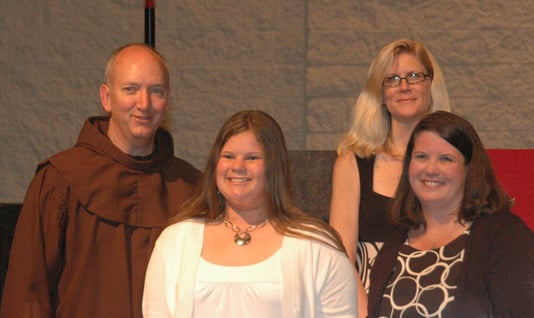 As the 7th grade ELA teacher, Walsh also weaves in her love of reading and creative writing
every day. Walsh encourages students to keep reading books they love and never stop
learning. And even more importantly, she says "When in doubt, say a prayer. Don't be afraid to
ask for help and remember that you have a school and parish community to support you."