Before the doors first opened at The Franciscan School, there were feelings of excitement and
anticipation of the unknown. And although the teachers did not know each other, they quickly became family. The small group of founding teachers who remain at TFS carry a great sense of pride for what has been built and what continues to be nourished at the school.
One of those founding staff members is our K-4 PE teacher, Chris Elliott. Elliott began as the
school's founding Athletic Director and helped form the first athletic teams. Although those
teams were small, Elliott has been proud to watch them grow and develop into what they are
today.

With an undergraduate degree in Sports Management (with a minor in coaching), as well as a
Master's in Education degree, Elliott has brought a rich combination of both experience and
schooling to his role at the school. Elliott uses a sports model where his PE classes play a
variety of games and activities to help foster a sense of healthy competition. He hopes to not
just instill a desire to win, but also an attitude that losing is a part of life's lessons. "Showing
sportsmanship and graciousness in victory and defeat are so important in my classes," says
Elliott. Elliott likes to organize "Challenge Games" where classrooms compete against other
classrooms, sometimes even those a grade above.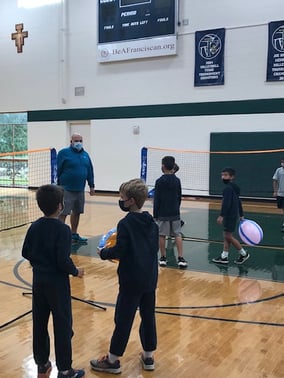 Dan Burns, PE Teacher for grades 5-8, has enjoyed working with Elliott for the last several years. "Chris is a highly motivated and energetic teacher who has high expectations of all children that he teaches," says Burns. "He cares not only about their physical development but
also their mental, social, and emotional well-being. He truly tries to teach children skills that will last their entire lifetime."

According to TFS Principal Mike Watson, Elliott has worn many hats during his time at the school. Not only has he served as Athletics Director, PE Teacher, and sports coaches, but he has also served as a committee chair and a trusted faculty leader. But Watson shares this only
scratches the surface for Elliott's impact. "Coach Elliott was involved in establishing many of the policies and procedures we have today, as well as playing a vital role in developing sportsmanship and fair play among students, showing them that being a Franciscan requires appreciation for the gifts and skills of others," says Watson. He indicated that students still come back and share about all of the positive traits Elliott instilled in them. "As a leader, teacher and mentor," Watson says, "Coach Elliott has been the indispensable man since he started, and we are all so appreciative of all he has done, and continues to do, as a Franciscan teacher and leader.

Elliott shares a few fun stories from the beginning days that many current families may not
know. To celebrate the inaugural year at TFS, every student, faculty and staff member brought
dirt from their homes to plant a Redbud tree. The tree grew to be the largest in the courtyard,
enjoyed by hundreds of students over the years. But in the Fall of 2020, a storm brought down
the beloved Redbud tree. Faculty, staff and alumni families helped save part of the tree by
building a bench from it that now stands in front of Thea Hall. It serves as a reminder of the
strong roots at TFS.

And most may not know that it was Elliott who helped develop and name the school mascot,
Gubbio. Gubbio was named after the town in Italy and the story of St. Francis and the wolf.
Elliott's students would also be surprised to learn that even though he attended N.C. State
University, he bleeds Carolina blue and cheers on the UNC Tarheels!

Elliott's ultimate goal for his students is to help them find an activity or sport they could continue
throughout their life. He encourages them to make good choices in staying healthy, as well as
positive choices in being a good person. Elliott believes that "If my students show kindness,
courtesy, and a sense of compassion towards others, then this would be a winning score in any
game."