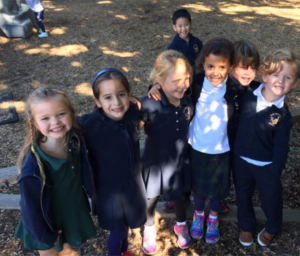 The Franciscan School celebrates its 20th Anniversary during the 2019/20 academic year as one of the preeminent catholic schools in the Raleigh area. In those short twenty years, many families have experienced the benefits of a Catholic education. In a time where many options are available for educating children, The Franciscan School stands out. More than ever it is an option for families to choose an educational experience that centers around the whole child.
What is the Franciscan School
A fully-accredited elementary and middle school for students in kindergarten through eighth grade. The Franciscan School offers a nurturing environment where children grow academically that is innovative and challenging. Recognized as a National Blue Ribbon School in 2011, the school has a talented and enthusiastic faculty/staff. They work tirelessly to provide educational leadership that is inclusive of the diverse learning styles of all children.
The use of technology, leveled reader libraries, and small classroom models to instruct students of diverse learning styles are just a few benefits of the school. Incorporating core curriculum subjects such as music, art and foreign language allow students to have a well rounded educational experience. Also, middle school students have the unique opportunity to select electives that support their interests. Outside of academics, students have numerous opportunities to participate in athletics, student clubs and community service projects.
The Franciscan Mission
In the spirit of the Franciscan mission, the students at the school are introduced early to the concept of community. One of the areas of focus is in the service to others. For example, last year students directly served over 3000 people across the local area, nation and world with the various service projects held during Catholic Schools Week. Students leave the school not only having a strong academic foundation but a true sense of their impact on the community in which they live.
With the foundation of faith, academics and service at its core, the school sends out students who embody all that a Catholic Franciscan education provides; confident, academically prepared students who go out into the world ready for its challenges and always equipped to serve those in need!
Learn More!
Interested in learning more about The Franciscan School? Join us for an open house on Sunday, October 27th at 12:30 pm in Fellowship Hall. This is a great opportunity to meet with faculty, staff and students to learn more about the school. Campus tours are included.