Since opening its doors to students in 2000, The Franciscan School has sought to lay a foundation of faith, education and community that students carry with them long after they've turned the tassel.
Alli Perrin, who graduated from TFS in 2011, recognizes that in her life, TFS did just that.
Perrin credits the faith that was nurtured at TFS as the basis for a lifetime of trust in God – a trust that has helped her press on in life's most difficult seasons.
"During my sophomore year of high school, I was diagnosed with depression and anxiety, which made me encounter several roadblocks," Perrin says. "Years of treatment and therapy took me on several detours in life."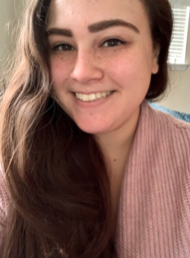 After moving on from TFS, Perrin attended Leesville Road High School and then The University of North Carolina at Wilmington, until she returned home her second semester. She continued her studies at Wake Technical Community College for two years, while living at home, and then transferred to North Carolina State University in 2018.
Next December, Perrin will graduate from N.C. State with her bachelor's degree in accounting and a concentration in information systems.
"In the last several years, there have been many times when medications and treatments aren't enough," Perrin says. "But my faith and trust in God have provided comfort and light in my darkest moments. I know that he is always there for me, no matter how alone I feel."
In turn, this has given Perrin a deeper appreciation for the Catholic education and faith-filled community she experienced while at TFS.
"TFS provided a nourishing and fun environment that made me proud to be Catholic," she says. "It's a close-knit community that emphasizes living and loving like Jesus did. Growing up surrounded by friends and teachers who love and celebrate God made me want to grow closer to him."
In addition to its faith-filled environment, Perrin also points to the love and care she experienced in the TFS community. Specifically, she found a place to belong on the TFS softball, basketball and volleyball teams.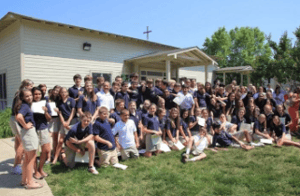 "We had fantastic coaches who pushed us to be our best selves on and off the court and I felt loved, supported, valued and powerful when I was with my teams," Perrin says. "We were each a unique family – and those bonds we formed are unmatched. We won and lost together, always showing up to practice the next day ready to work harder. I keep in touch with some of those friends to this day – nine years later."
As Perrin finishes her studies and prepares for the future, she looks back on a key lesson she learned at TFS: to never let the fear of failure keep her from taking the next step.
She remembers how in sixth grade, she ran for student council at TFS even though she thought she would lose – and ended up winning. The next year, she won again. But in eighth grade, she ran for president and lost.
"I was disappointed, but my friends and teachers were so supportive and encouraged me to keep going – and I ended up serving as student body president in high school and achieving many goals that I originally thought were laughable," Perrin says. "The courage and determination to reach for something I wanted was based on the foundation of confidence that TFS helped me build."
To parents currently considering sending their children to TFS, Perrin offers a word of advice.
"TFS is a leader in providing a supportive, faith-filled, and well-rounded education," Perrin says. "The teachers and faculty are all dedicated to helping your child reach their full potential in every way, and they provide an incredible foundation that sets your child up for success in and out of the classroom. My former teachers at TFS have been a huge part of my life journey, and I still keep in touch with several of them."