Every year, thousands of young children dream of growing up and becoming a marine biologist. So you could say that Sarah Hudak, who graduated from The Franciscan School in 2010, is living the dream.
"I flew to Seattle, Wash., two days after graduating from UNC-Chapel Hill to train with the National Oceanic and Atmospheric Administration (NOAA) and start my work as a marine biologist on fishing ships in Alaska – think of 'Deadliest Catch," Hudak says. "I worked in Alaska for a year and a half and then moved to Hawaii to continue my work there on different fishing vessels. My main job is to keep track of what fishermen are catching. It's a big job! Our data is used by many agencies to determine the relative sizes of fish and mammal populations in the sea."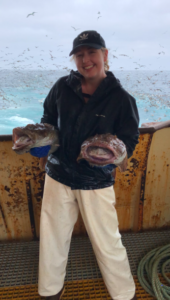 Hudak, who attended TFS from third to eighth grade, went to high school at Leesville Road before pursuing her undergraduate studies at the University of North Carolina at Chapel Hill. Hudak changed her major four times – biomedical engineering, biology, business and then, ultimately, environmental science – in college before realizing she wanted to become an environmental scientist.
"So don't sweat it if it takes you a while to figure out what it is you want to do," Hudak laughs.
Hudak has many fond memories of her time at TFS, especially remembering the closeness with her graduating class – many of whom she maintains friendships with to this day. "I notably remember the 8th-grade graduation speech from our class comedians, Andrew Cochrane (who believe it or not, is a comedian for a job, now!) and Nathaniel Monteleone," Hudak remembers. "Their speech was about Chuck Norris and ligers, and it was riveting."
Many of her teachers and coaches also played a special role in helping her develop academically, emotionally and spiritually.
"Before Mr. Watson was the principal, he was my soccer coach and science teacher. He always encouraged me to push myself," Hudak says. "Mr. Gorman sparked a love of music for me and I play piano almost every day because of him. And Ms. Kowite is a strong, intelligent woman who I greatly look up to."
Mike Watson remembers Hudak as a smart, dedicated student with a goal-driven attitude.
"Sarah was always a great student with a love of science. She was a pleasure to teach," says Mike Watson. "Fortunately, I also had the opportunity to get to know her as an athlete on the soccer team where she was equally driven. She was a leader in the classroom and on the field as well, and I am not surprised she has been so successful in meeting her goals.".
Hudak is grateful for her time at TFS, recognizing how the school instilled many of the values she has carried with her into adulthood. "Faith, kindness and hard work can get you through just about anything this world throws at you," Hudak says.
As for a piece of advice she would offer current TFS students, Hudak shares, "Be kind to everyone and make every person feel included. As you are growing up, the need to feel accepted and cared about is more important than you realize. Make time to sit and talk with the kid that eats lunch alone. If you're team captain, pick classmates that don't often get chosen first. Everyone deserves to feel wanted!"