In an ever-changing world, The Franciscan School recognizes the great responsibility and privilege it has to shape young lives. The staff and faculty are devoted to ensuring that by the end of their eighth-grade year, students are both prepared to succeed in high school and ready for a lifetime of learning.
For educators at TFS, this includes providing a solid academic foundation and equipping students with organization skills and good study habits – but more notably, involves developing students who are engaged in the classroom.
Eighth-grade science teacher Carolyn Moser, who has taught for nearly 16 years at TFS – as well as 30 years in the North Carolina public school system – finds that developing engaged learners can be a real challenge.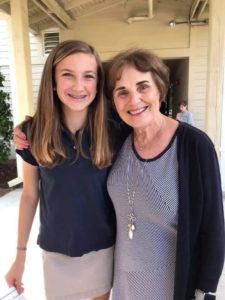 "Many eighth-graders want to get good grades without too much trouble…and still have time for the many other things they love to do," Moser explains. "As a teacher, I believe in hard work and effort, but getting everyone to buy into that can be difficult when students want school to be fast and easy. It is my responsibility to find the right 'prescription' for learning for each student that walks in the door – and getting them engaged in using that approach."

For Moser, fostering engagement in the classroom is the key to developing students who are not only ready for high school but also ready to make a real difference in the world.
"Our children are the future and the problems of the world are theirs to solve. We cannot fail to prepare them for that responsibility," she says. "But this is hard work – and it requires that they think. It is my job to challenge students to set high goals and show them how to work hard to achieve those goals. If I can do that, then I have made a difference."
For this reason, Moser is passionate about showing students that education is about more than memorizing and regurgitating facts – it's about critical thinking.
"I want every student to learn how to apply and connect concepts to others until they actually see the big picture of how things all fit together," Moser says. "To make the leap from simply memorizing information to using that information to solve a real-life problem is huge! If I can move my students closer to that objective, then I have prepared them for what comes next."

Linda Sullivan, an eighth-grade language arts teacher at TFS, agrees that one of the biggest challenges facing educators is cultivating engagement in the classroom.

"Students have grown used to the digital world they live in – and it has impacted the ways they learn," Sullivan explains. "I'm continually finding new ways to engage students in learning and constantly reevaluating the novels I teach, the methods I use for writing instruction, and the resources I use to teach grammar and vocabulary. I love it when my students make real-life connections to the literature we read in class."
To build engagement and critical thinking, and to develop speaking and leadership skills in her students, Sullivan also has her students participate in Paideia seminars based on the Socratic method of teaching.

"After each novel we read, I provide students with these opportunities to engage in collaborative dialogue because I want them to feel comfortable engaging in discussion," Sullivan says. "I want them to have as many opportunities as possible to develop both their speaking and leadership skills, as these will be important both in high school and even beyond high school."

In addition to providing students with a strong academic foundation and an engaging learning environment, both Moser and Sullivan recognize that preparing students well for high school starts with building their confidence and showing them how to live lives of purpose and service.
"Eighth graders often lack confidence and are unsure of what they can accomplish, so I want to be my students' biggest cheerleader," Moser says. "I want my students to learn to advocate for themselves and to have confidence in what they can do in life. I want them to dream big and to push themselves to be the very best they can possibly be while still being true to their faith."

For Moser, this involves helping her students think outside the box and realize their full potential – and reminding them along the way how much she supports them.

"Nothing matters more to me than having every student know that I believe in them and that I am constantly working hard to prepare them for what comes next," Moser says. "I am here to help guide them, love them and teach them as if my life depended on it."
Sullivan, too, finds that motivating students to make a positive impact in the world starts by building their confidence and reminding them how valued they are.
"Throughout the year, we talk about the gifts we each have which is what makes each of us unique," Sullivan says. "I hope that students will remember these discussions as they begin high school so that they can become involved with clubs and organizations that interest them, discover what they are passionate about, and strive to live a life filled with purpose."

And while watching students grow inside the classroom brings them great joy, TFS teachers agree that one of the most rewarding parts of the job is getting to see who previous students have become when they come back to visit – and remembering that preparing students to succeed in high school is, even more so, about preparing them to succeed in life.
"The fruit of our effort is very evident in the lives of countless former eighth-graders who have gone on to live lives of purpose and service to others. I get to see students come back as engineers, doctors, lawyers, business people, wives, husbands, priests, artists, musicians and so much more," Moser says. "When I see these grown-up versions of the eighth graders I knew and loved, I know why God put me in this place. I am truly blessed to witness this transformation of children into faithful adults who have lives that make a difference."