While it's been nearly a decade since Cameron Stutts '12 walked the halls of TFS, to him, it feels like it was yesterday.
"My fondest memories at TFS had to be in PE class and participating on sports teams after school. I have always been a competitive person and strive for victory," Stutts says. "I enjoyed the Catholic background that TFS instilled in my life. I felt that through attending a Catholic school, I grew closer to God during my elementary and middle school years."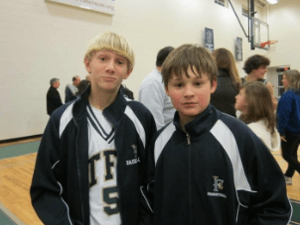 Seventh grade with classmate Cole Strickland
Stutts, who was part of the TFS community from second to eighth grade, later attended Cardinal Gibbons where he played varsity soccer, winning a State Championship, before graduating in 2016. After high school, he attended the University of North Carolina at Charlotte (UNCC) where he received his degree in business administration with a concentration in marketing and innovation.
Today, he works as a sales development representative at a telecommunications company, CommScope. CommScope, a leader in the hospitality and municipalities markets, specializes in networking and infrastructure. In his role, he makes calls to both new and existing companies providing them with value and product knowledge. In addition to his work responsibilities, Stutts is also pursuing his Master's of Business Administration (MBA) at UNC Charlotte. He is on track to graduate in December 2021.
Stutts credits his time at TFS for instilling the importance of relationships and maintaining a strong foundation of faith.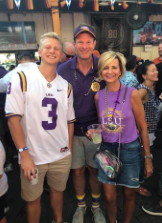 With family at an LSU vs. Texas game
"The key things that I learned while at TFS is to cherish the relationships you have while growing up, open your heart to God and enjoy the little things in life," Stutts says. "My faith at TFS grew through attending mass and speaking with my religious leaders. They instilled strong beliefs that there is a higher presence in my life. In my life, I took some of my relationships for granted because I was constantly worried about the big picture. I have learned to live in the moment and cherish the simple pleasures that life gives you. Nothing is permanent and you should be thankful each day for your life."
He credits a few key teachers at TFS for shaping his outlook on life and work ethic - both of which he carries with him to this day.
"Mr. Will Stevens and Mr. Chris Cadran created an enjoyable work environment reminding me to have a good attitude in everything I do," he remembers. "Mrs. Carolyn Moser challenged me to become a better student. I was never good at science growing up, but she always believed in me. This taught me resilience and determination for achieving success."
However, Stutts believes all the teachers and staff at TFS go above and beyond for their students - which he believes will help him succeed in wherever life takes him next.