While media centers are typically known for holding masses of books, Kristina Kollauf, media specialist at The Franciscan School, aims to make TFS' media center known for a lot more.
"I want to lean away from the idea of a traditional library and lean into the idea of a learning commons – a place where students can come to collaborate, create and innovate," Kollauf says. "Kayla Dellinger and I are excited to revamp the media center to be a more accessible and appealing place for all students K-8."
When the pandemic hit last year, Kollauf became even more convinced of the significance of ed-tech for today's students – and first identified her passion for it.

"After going completely remote, I recognized my love for ed-tech and the importance it holds when turning our students into 21st-century citizens," she says. "Knowing this was the direction I wanted to go in, a TFS family I'm close with sent me the job opening and I applied immediately. I feel like I finally found my dream career."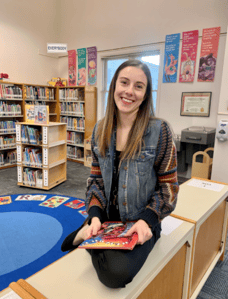 Looking ahead, Kollauf says, the media center will offer an abundance of virtual and technology tools that enhance academic experiences and develop students into lifelong learners.
"Ultimately, the role of a media specialist is to enrich learning through relevant and engaging resources that support the curriculum," Kollauf says. "By collaborating with staff, specialists, students and tech directors, I want to prepare students to be 21st-century citizens by teaching them important skills in media, internet, technology, research and reading. I don't want to merely show children the world – but teach them how to actively engage with it."
Kollauf also plans to increase TFS' book circulation by collaborating with Wake County Public Library and its interlibrary loan system.

"I have always been wildly passionate about children's literature and I love finding ways to make kids fall in love with reading," she says.
Previously, Kollauf taught second and fourth grade at Farmington Woods International Baccalaureate Primary Years Program in Cary, N.C., and as a second-third combined classroom teacher for a magnet school for special education in West Allis, Wis.

"Students have been – and always will be – the center of my work," she says. "I love making connections with students, joking around with them, learning details about their lives and dreams, watching them grow and seeing them smile as the learning finally starts to connect in their brains."
For Kollauf, starting as media specialist at TFS was more than an opportunity to steward her passion for ed-tech – it was also an opportunity to join a community.

"There is a sense of belonging, care and support among the TFS family that I haven't experienced before. I feel so lucky and blessed to be a part of it."