When The Franciscan School opened its doors in 2000, it did so with the foundation of the
Franciscan tradition. This tradition is centered around St. Francis of Assisi, who dedicated his
life to God and to the service of others, especially those who are marginalized, oppressed, and
in need.
Father Jim Sabak, OFM, shares that from the Franciscan perspective, service is "truly
about entering into the life of another person...opening ourselves to one another in vulnerability
and trust, then committing ourselves to journeying with each other in the lives we share
together."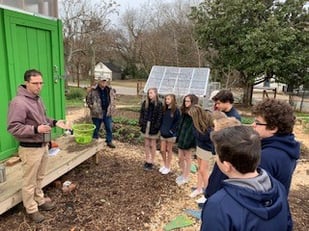 At TFS today, Catholic Social Teaching (CST) is integrated throughout the school year in a
variety of outreach projects and intentional service ministries. Joanne Finch, 7th/8th grade
Religion teacher, believes, "It is important for students to experience-not just be taught about-
what CST is all about: human dignity, solidarity, and service." Finch has taught at TFS for the last 16 years in preschool, 2nd grade, 3rd grade, and all middle school grades. But despite her change in classrooms, her passion has consistently remained on giving students an opportunity to put their faith into action. Through all her years, she says, "Given the opportunities to fulfill the call to serve, students learn to give of themselves and then feel the love of God being given back to them."
Finch has particularly been focused on food-insecure ministries. Her students have helped with
the Passage Home Food Drives, cut jeans to make shoes with Sole Hope, adopted families
during the holidays, and assisted underserved communities in Raleigh. Personally, Finch has
been involved with Catholic Parish Outreach (CPO) for the past 9 years and receives great joy
when she runs into current or former students at the CPO warehouse.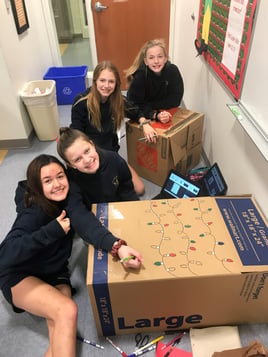 For the younger grades, service is still at the core of TFS. Opportunities are always hands-on and woven into the classroom and school experience. Julie Sperrazza is a first grade teacher who has taught at TFS for the last 10 years. She believes that "service connects children to the world around them… it helps them realize that their world is much bigger than the small space of our classroom, but they are not too little to make a difference." With a passion for early literacy, Sperrazza's students have focused on supporting Book Harvest by donating their own books into the hands of children who may not have the means to read books in their homes. Her students have also created kits for homeless families, made no-sew fleece blankets for Project Linus, and supported the NC Pajama Program and Zach's Toy Chest.

Father Jim reiterates that Franciscan service is dedicated to imitating the life of Christ by loving others, breaking down barriers, bringing people together. And at TFS, he says, "This makes service not an exception to all the many things we do in our lives, but reveals it as a constitutive
and vital core of all we do."