When Marie Leone first toured The Franciscan School, she knew it was the place for her. What she didn't know was that eventually, each of her family members would join her at the school.
Marie retired from TFS four years ago after 19 years of service. Marie watched the school grow from 300 students to 700 students, and she had the opportunity to work with each principal until her retirement. During her first three years at the school, she served as a teacher's assistant. She also started the before-school program, where she got to spend time with and love on students outside of her own classroom. For the full 19 years of her time at TFS, Marie led this program each day. And as the school continued to grow, Father Mark Reamer asked Marie if she would become the "face of TFS." This meant serving as a permanent receptionist and administrative assistant. After just the first few months in the position, Marie knew this was the position for her. "Becoming the receptionist was something I felt became my calling," says Marie. "I knew I wanted to be there for students and families, guiding them and helping them with whatever they needed."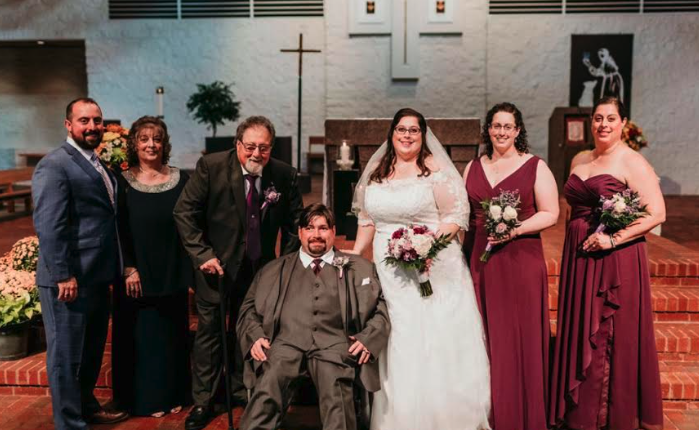 Marie kept busy. In addition to being the receptionist and leading the before-school program, Marie was a Eucharistic minister at 5:30pm Mass on Saturdays and for every school Mass. Marie gave school tours, handled and distributed all the books and supply orders, answered questions from families, and helped the teachers with various tasks. Pretty much anything on campus, Marie was a part of. When she gave tours, Marie would tell families "If you feel something special, know you are being drawn here. If you aren't sure, come back. And if you feel that warmth, this is where you belong."
One of the factors that led Marie to the school was that her second-oldest daughter, Cristina Leone Gautier, was hired the year before the school completed its build. This is where Cristina started her 23-year teaching career. She first began teaching 2nd grade for four years, then moved to Kindergarten where she taught for 13 years. She currently teaches 3rd grade where she has been for the last six years. Cristina has been the team lead in Kindergarten, second grade and third grade. She was the student council advisor for about 13 years, a faculty liaison for the PAC committee and the HSA committee, and she has served on several curriculum committees, to name a few of the things that keep her busy.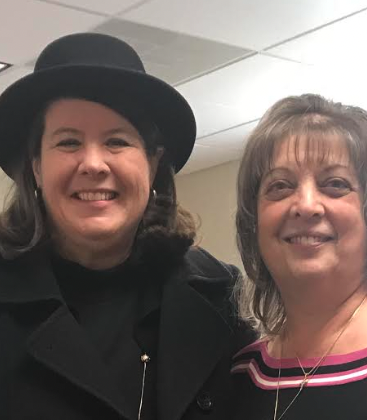 For Cristina, she says, "The proof of how wonderful a school TFS is points to all the alumni who come back after graduating from college to be teachers here." "TFS is such a special place," she adds. "You can feel it as soon as you step on campus, and in the courtyard during Morning Prayer. There is nothing like it."
This infectious enthusiasm from Marie and Cristina pulled in more of their family. Frances Leone Willard, Marie's youngest daughter, joined TFS in 2003 and taught for 11 years. She began as a teacher's assistant for a year, taught Kindergarten for a year, and eventually became the K-8 Art teacher for the next nine years where she taught the children pottery. Frances majored in Art and was thrilled to have the opportunity to teach her passion with the students.
During that time, Marie's son, Joseph (Joe), then a high school student, spent his afternoons starting the TFS after-school Bridges program along with Frances. After several years spent working in the commercial and residential electrical field, Joe was hired to work at TFS and the parish. His motivation was that, "Watching my siblings and mother work in a place with such a deep sense of community and family made me want to do something to help keep that going with my own time and talent." For the last 15 years of his service at the school, Joe has primarily served as the Maintenance Technician and Facilities Manager, the position he currently holds. He gets to interact with the community very closely on a daily basis and ensures a safe, welcoming, and well-functioning environment.
Joe also has a passion for coaching youth sports and was given the opportunity to serve as an assistant coach to the TFS varsity girls soccer team in 2021-2022. He shares, "There's nothing quite like seeing the students throughout the day when I'm doing my various jobs and hearing 'Hey, Coach Joe!'" Because of his roles, Joe got an "inside" look at the school, which sealed his desire to raise his two daughters at TFS. "I always knew I would want to raise my own family in the St. Francis community and entrust TFS with my children's education when the time came. I wanted to be confident that the educational environment would mimic our beliefs and continue instilling good values in my children when they were learning during the day." While his oldest daughter is now in high school, his youngest daughter is still at the school as a 6-year-old.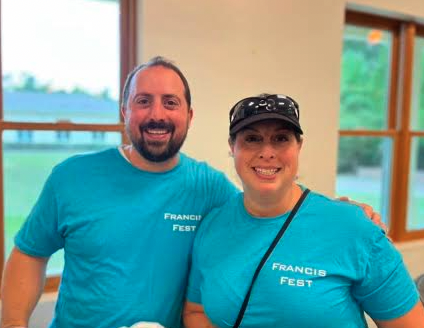 And not to leave a family member out, Marie's oldest daughter, Michelle Leone Cash, was the personal chef for the St. Francis friars on and off for 19 years. She graduated from The Culinary Institute of America as a Certified Chef, and she would also do all the school and church catering. A few of the events she helped with were: organizing and serving snacks for the children that attended vacation Bible classes during the summer; cooking and serving meals to the middle school and high school students who attended faith formation classes; organizing the food trucks for the Francis Fest; and working at the church's community center.
At one point, all of Marie's four children were working at the St. Francis or TFS campus! When her husband retired, he also came to the church to run the community center cafe on Fridays after Mass. What's most exciting about this family's story is that it all began with Marie's parents (her children's grandparents) who first discovered TFS after moving from New York. They were involved at St. Francis, and they first encouraged Cristina to apply as a teacher. From there, each member of the Leone family saw the school and parish through their eyes. "Seeing the way being part of the parish enriched my grandparents' lives gave me a strong desire to give back to the church using the talents with which God blessed me," says Joe.
It's clear to see that the entire Leone family has been captivated by the love at TFS and the church. They all embody a quote that former TFS principal Barbara Polston used to share during morning prayer: "Work hard, play hard, but most of all be kind to one another."