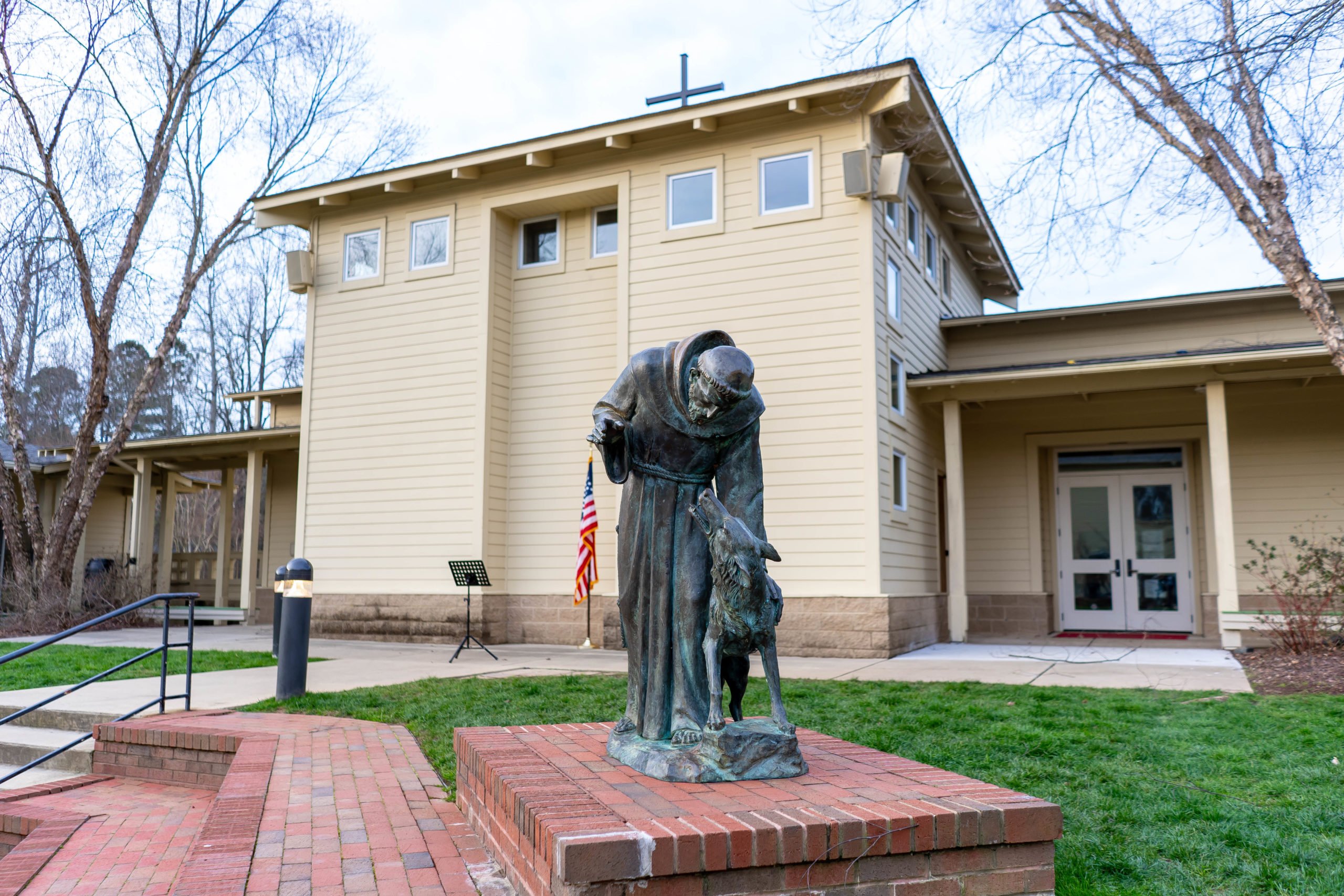 In the late summer of 2000, The Franciscan School (TFS) opened its doors for the first time. Now 20 years later, we've become one of the largest Catholic schools on the east coast.
Throughout it all, we've held the word of Christ in our hearts and remained centered in faith. Still, we could have never imagined that one day TFS would become a National Blue Ribbon School or grow from 350 students to 650 students school-wide, between grades K-8.
During this long but rewarding journey, we've been most grateful for those who've poured into our students and surrounding community, year after year. So it is only fitting that we celebrate our 20th year by catching up with faculty and staff members who have been with us since the beginning.
Keep reading and discover what they had to say about how TFS has impacted their lives.
A Legacy Built on Family & Faith
Each year has brought us new blessings and lessons, but the secret to remaining steadfast in our mission is our family of faith.
"TFS is a community that instills and uplifts faith as the firm foundation upon which all else securely stands," says school counselor, Laureen Wacenske.
Cristina Gautier adds that in her 20 years, morning prayer remains her favorite moment to connect with students and fellow faculty members.
"I believe the way we gather as a whole school in the courtyard for morning prayer is a huge part of what makes TFS a unique community," says Ms. Gautier.
Fourth-grade teacher Ann Giannini echoes these sentiments about morning prayer and adds that worshiping together at the end of the year is another moment when she feels close to TFS family. "My favorite memory is ending the year in praise and worship. Hearing everyone singing together is pure joy."
According to Chris Elliot, founding grades K-4 teacher, it's moments like this that have changed his life the most.
"Since the very beginning, I have had the privilege of teaching these students and becoming a part of their families. By having these students and their siblings over the years, I have literally seen these families grow up before my eyes."
Two Decades Rooted in Community
When you visit TFS campus, one of the first things you will notice is our courtyard filled with beautiful trees. In our first year, the entire school came together to plant those trees, and every student brought earth from their home to mix into the planting soil.
It's incredible to look out and see how the courtyard has grown today, not only is it breathtaking, but it's a clear example of how the Franciscan community has flourished in 20 years.
Inspired by our patron Saint Francis of Assisi, our campus was initially founded as part of the 35-acre parish with a mission of creating a school that proclaims the love of God while extending hope, human dignity, and hospitality to all.
"We follow in the footsteps of St. Francis by caring for God's creation and reaching out to those in need in our community," says Ms. Giannini.
Since 2000, TFS School Nurse Joanne Sullivan has been on the frontline of that mission. Ms. Sullivan joined St Francis Parish in 1992 because of how welcomed she felt the first time she attended mass.
"We witnessed teenagers attending mass walking in laughing and joking with Father Dan, and we thought, 'WOW!' This is where we want to raise our family. When the school opened in 2000-I felt the same way- no one was ever turned away- all are always welcome." In all her 20 years, Ms. Sullivan states that it's the people who have impacted her most— the lasting friendships and unparalleled community of support.
Educating Generations in The Franciscan Way
To reach this 20-year milestone, we've been fortunate to expand in numerous areas, including our student and family body, academic programs, and the use of technology.
However, it's what teachers like Cristina Gautier do each day that makes all the difference. In her role as a third-grade teacher for the previous 20 years, Ms. Gautier has supported administrative structures that ensure that students and her fellow teachers grow in faith, education, and service.
Staff like Laureen Wacenske, have also helped us evolve in the ways that we build up the whole child— academically, spiritually, emotionally, and socially. As a School Counselor and former teacher, Ms. Wacenske has been pivotal in improving TFS responsiveness to individual student needs.
With all the recent developments, the thing that has mattered most is maintaining a culture of community and togetherness. Ms. Sullivan summed it up best in her following statement, "Even though we have grown so much, I believe we are still as welcoming as we were 20 years ago. "
It's Just the Beginning
The beautiful thing about celebrating 20 years is knowing that it's only the beginning. With alumni returning as faculty, the TFS tradition is constantly receiving renewed life. "I can't wait to have children of our alumni start as a T'wolf!" said Mr. Elliot.
Ms. Giannini says that when she thinks about the future she's inspired by the potential and enthusiasm of our students. "I see TFS continuing to send children out into the world prepared and excited to make a difference in the lives of others."
When asked where she sees TFS in the years to come, Ms. Wacenske said, "In twenty years I see TFS's circle of faith and love stretching out even further into the world as generations of lifelong learners walking together, striving to live and love as Jesus did." In closing, she said that her constant prayer is that each and every child will leave TFS, knowing that they are loved.
Ready for the Next 20 Years
As we approach graduation and 20 years of educational excellence, we can only be thankful that Christ has seen fit for us to come this far. Particularly during these uncertain times, we are the most grateful to have dedicated faculty and staff who continuously further the mission and success of our students. In reflecting on two decades of excellence, we graciously anticipate our next chapter, while holding strong in our faith and family, united as one community.