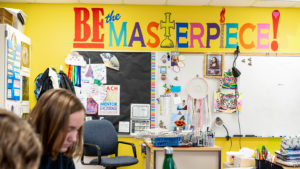 As parents face difficult decisions about how to provide their children with a quality education without breaking the bank, The Franciscan School (TFS) might just have the answer many families are looking for.
TFS believes strongly in embracing students of all faiths and backgrounds – and is passionate about providing scholarships and tuition assistance to families that desire a strong Catholic education but worry the cost is financially out of reach.
"There's often a misconception that private schools are elite schools," says Mike Watson, TFS principal. "While we are committed to providing quality education, we're not here to separate ourselves – we want our education to be as accessible as possible."

Each year, the school enrolls approximately 600 students and offers approximately 25 percent of them with some form of financial assistance. Using funds provided by the parish offertory, TFS provides significant need-based financial aid. In five years, more than $1.8 million of tuition assistance endowments have gone to Franciscan School families such as the Marks family, who have five children at TFS.
As a large family, the generosity of TFS families and supporters has allowed the Marks children to continue receiving a Catholic education. When they started at the school during daughter Ava's kindergarten year, they didn't expect they would need financial assistance. However, as their family grew, so did the financial strain.
"When we got to the point that we needed help, I thought I would be worried and embarrassed to ask for help. But the fear of removing them from this incredible faith-based education far surpassed my worries of being embarrassed," says Jenny Marks, TFS mother. "Our children would never be able to remain at TFS without financial help, even being a dual-working family. The school knows our commitment to TFS and they love and support us in any way they can to make sure our goal of keeping all of them at TFS can happen. I cry every time I get the financial aid email as it is the best gift our children have ever been given."
In 2019, in an effort to make excellent education a reality for as many families as possible, Watson formed the Timberwolf Fund to garner additional financial support. Through the generous contributions of many, including some Franciscan families who participate by paying additional tuition, last year eight students received scholarships to offset the cost of tuition.
"We never want the cost of tuition to be a deterrent to families seeking an excellent education," Watson says. "Charging tuition makes it possible for us to offer our teachers a fair wage and give them access to quality materials and resources, but we understand that not every family can afford it."
And the quality of education is critical, Watson explains. The Franciscan School offers unique programs to develop life-long learners and leaders. Its reading program features a differentiated reading assessment that assesses students' varying reading levels in grades K-8, allowing teachers to meet students where they are and build upon their reading skills, as well as a choice reading program for middle schoolers.
The school also works to build self-confidence in its students from the moment students step foot onto campus.

"We utilize cultural experiences like morning prayer and weekly mass to give students opportunities to become comfortable speaking in front of large crowds," Watson says. "These safe environments provide our students with the familiarity of speaking in front of hundreds – starting in kindergarten."
As schools begin rolling out their reopening plans for the fall, many families have begun considering private school more seriously – especially after watching COVID-19 wreak havoc on school systems.
"Compared to many other schools in Wake County, we were able to pivot quickly and continue providing quality education," Watson says. "And we've worked especially hard to develop a structure for the fall that serves our families well."
For families who desire a private education but fear it's out-of-reach, The Franciscan School's dedication to providing affordable private education is good news.
"Offering financial assistance is a joy for us – and it's simply part of our mission to help and support others in our community," Watson says. "Offering hope and extending hospitality is the Franciscan way."