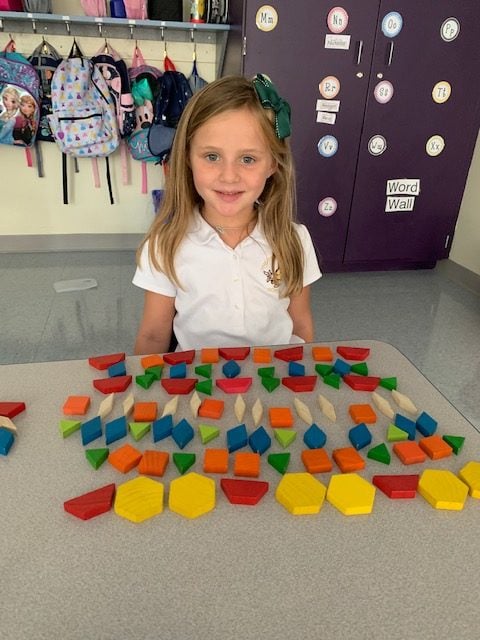 It was the first day of Kindergarten, and I had so many emotions. I was sad that my "babies" were growing up. I was sad that we would no longer have lazy weekday mornings on the couch or afternoons at the playground. As I attended Mass on that day, I cried the entire time! I cried because I was sad about what I was losing, but I also cried because I was so happy with where I was sending them to school. I knew they were safe and happy. My other mom-friends were sitting close by, and we cried together! Again, that sense of community!
I literally cried the entire day, but when I picked the girls up in the carpool, they were so happy! The girls told me how much they loved their day, how much they loved their teachers, how many friends they knew in their class, and how they couldn't wait to go back the next day. It was then that I knew we made the right decision, and I am still so thankful every day.
Many parents can relate to Gina Ceremuga's feelings of uncertainty and anxiety. Kindergarten can seem scary, but it is a magical year. It's in Kindergarten that students meet their first friends. They gain a foundation in learning and take the initial steps toward independence. But at The Franciscan School, it's even more special because kindergarteners are immersed in a community that makes them feel safe and confident.
The Best First Year Ever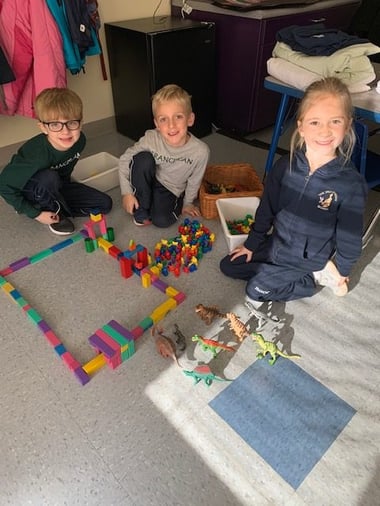 "My daughter's confidence shows through her learning," said TFS parent Cristina Ennis. "She exemplifies dedication to her work, her friends, and to God. Praying gives her comfort at school, and she is learning to have empathy for other people. Her reading and writing skills are well above grade level, and most of all, my child feels loved and supported."
While our individualized approach to teaching uses hands-on learning techniques that give kindergartners a foundational education, nothing compares to what students achieve when they feel supported and secure.
Emily Edwards, said her daughter, Amelia's newfound courage, is directly attributed to her TFS experience. "My eldest daughter has always had a bit of separation anxiety, but when we would pull up to school, she would get a look of determination that I know her teacher helped instill in her."
In addition to the TFS culture of connectivity, our kindergartners are reared in St. Franciscan principles, ensuring students understand their role and place in the world.
Building a Foundation in Academics & Faith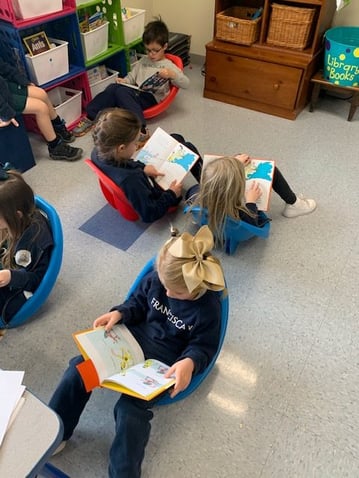 It is a special privilege to teach in a Catholic school, where faith can be nurtured, expressed, and integrated into every aspect of the day. We meet kindergarteners where they are in their development to create experiences that connect with them as people. From Mass to leading morning prayer, students begin understanding and participating in the Franciscan way.
Kindergarten teacher Laura Jerden said that at TFS, the whole child is nurtured. "As teachers, we work to support the child's growth in social-emotional learning, as well as academics and faith. For instance, our students form a special bond with their 8th-grade prayer buddies."
For Emily Edwards' daughter, having a prayer buddy has made a significant difference. It gave her someone to meet with occasionally, sit near at Mass, and learn from. She liked that a "big kid friend" who knew a bit more than herself, was interested in knowing more about her interests and thoughts.
Gina Ceremuga said it because of this, and more her girls have completely embraced TFS and look forward to going to school each day.
"They genuinely love their teachers and friends, and they enjoy learning! I believe this is a direct result of the culture at TFS! Morning prayer is such an amazing way to start the day. It enforces the community aspect that is present at the school, brings faith into the day right from the beginning, and makes the kids feel like they really are a part of the school."
When asked how her children have been specifically impacted, Gina said, "Neither of my girls was reading before Kindergarten. Now, they are already at a first-grade reading level. They are doing addition and subtraction as well! They learned about science, religion, and so much more! I am super amazed at their progress in just one year!"
By empowering our kindergartens to become leaders in faith, we give them the ability to excel within their schoolwork and other areas. As students progress, it is our outstanding teachers who walk with kindergartens each step of the way.
Meet Your Kindergarten Teacher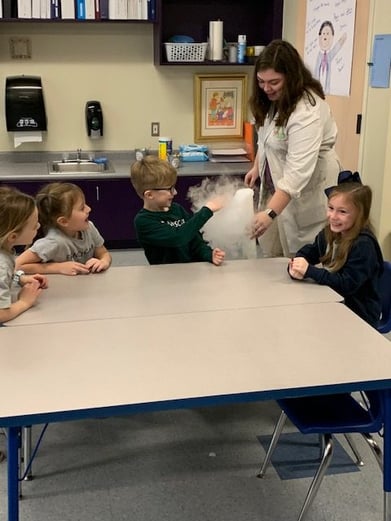 If you were to ask any faculty member, they'd tell you that teaching isn't a job for them; it's a calling. From day one, our teachers work with parents to get to know the child, their needs, and their talents.
"Everyone works together to help our students. It's not just about benchmarks. We get to know the child personally and create individualized programs that help each student reach success, so students always feel included," said veteran TFS teacher, Julie Sperrazza.
Students are assessed right at the start of the school year and several times throughout as well. With students at varying levels of instruction, our teachers work with each child to bring them closer to their academic goals.
For TFS teacher Barbara Dobner, being able to witness this growth is the single greatest reward. "It's one of my favorite things about teaching kindergarten. You can really see the changes in their abilities and confidence as the year goes on."
For example, our kindergartners have had significant success with the reading program. Using Wilson Fundations as the core of our phonics curriculum, our students work hard to master letters and sounds.
"Watching our daughter learn to read has been one of my most favorite parenting moments! The program they use is effective and sets an exceptional foundation. As the year progressed and it became apparent that they were not going to return to their classroom, I was concerned about how her reading would be affected. But since her teacher had laid the groundwork, our daughter didn't skip a beat. During the "end of year" Kindergarten evaluation, she read on a first-grade level," said Emily Edwards.
Our Kindergarteners may arrive like innocent sheep. But the development that occurs in one year, with our teachers' support and instruction, is remarkable.
Creating a Lifetime of Memories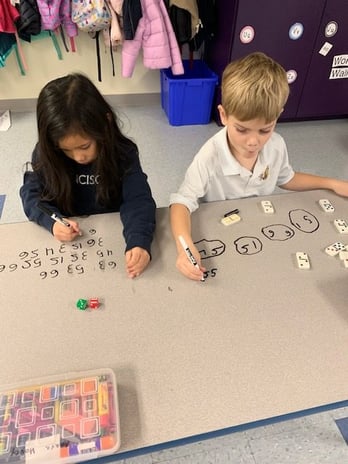 The best part of Kindergarten is the possibility of what's to come. You're open to everything, eager to learn, and have a special light that we strive to make brighter.
"This school is special!" declared Cristina Ennis. "You have the very best teachers with impressive educational backgrounds, but to top it off, they are firmly rooted and equipped to teach love, respect, and kindness. It is important that our daughter gets a solid education, but it's even more important that she grows up to be a good person. It takes a village to raise well-rounded children with different gifts and talents while also teaching them to love, be patient, do acts of service, and uphold their integrity".
Being able to watch students grow as they matriculate throughout the years is a full-circle moment that is possible because of the relationships and knowledge gained in year one.
Learn more about what TFS has to offer your child by submitting an inquiry at the bottom of the page to speak to our Kindergarten teachers.