As orchestra teacher Victoria Pedroza continues in her fifth year at The Franciscan School, her passion for music has only deepened. It's easy to happen when you're surrounded by students who are eager to learn and embrace new challenges.
"There is so much to enjoy in the orchestra classroom, and each day brings something new as students progress throughout the school year, learning new music or preparing for performance and competition," Pedroza says. "The thing I enjoy most in my role is inspiring a love for music, growing young musicians and creating a place where each student is valued and an important piece of an ensemble that is working together to create something beautiful."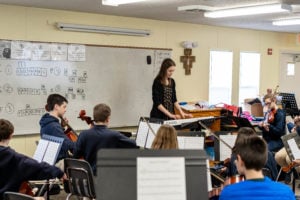 Pedroza's love of music began early. A violinist, she grew up in Raleigh playing in youth orchestra and taking advantage of many of the opportunities locally for young musicians, including the music ministry at St. Francis parish during middle and high school.
"Violin was my passion," she says. "I graduated with a degree in violin performance from the Cleveland Institute of Music in 2015, and after moving back to Raleigh, I began pursuing both performing and teaching locally."
Orchestra at TFS began as an afterschool program in 2016-17 and has grown and expanded in subsequent school years to include orchestra as a middle school elective, as well as adding 4th and 5th-grade orchestras as a part of the participating student's music curriculum.
"Offering these classes to students during the day at TFS allows for a unique opportunity for students to both try an instrument, as well as excel in music at school without having to sacrifice sports or other after school activities," Pedroza explains. "In the 2019-20 school year, we had 67 students in grades 4th through 8th participate in orchestra."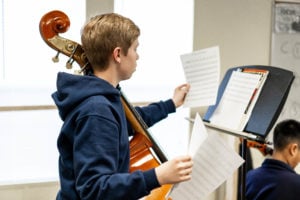 Typically, TFS orchestras participate in a handful of concerts and performances each year – including a Christmas concert in December, a 4th- and 5th-grade orchestra performance in early spring, a middle school performance at the school's annual art show, and various competition trips – such as the Festival of Music at Carowinds, which the middle school orchestra participated in during 2019. Additionally, middle school orchestra students also give back to the school and church community by participating in music ministry at school mass several times each year and on Sunday during Catholic Schools Week each January.
However, as with many other areas, the orchestra program at TFS has felt the effects of the COVID pandemic.
"COVID has placed some challenges on our program. Our scheduled middle school competition at Kings Dominion Performance in the Park in the spring of 2020 was canceled, and we ultimately had to suspend orchestra for the 2020-2021 school year," Pedroza explains. "Thankfully, a handful of students have continued lessons on their instruments outside of school, and some 7th and 8th graders practice from home to earn credit for their distance learning music class — but school is simply not the same without orchestra! I miss the excitement of beginning players learning their first notes and seeing their 'lightbulb' moments when reading music clicks or a student figures out how to play something by ear. And I enjoy watching older students help those around them and develop leadership skills in the classroom."
Her students miss it as well. TFS student Jack Houyoux, who has participated in the orchestra program since its inception, appreciates how orchestra has given him the tools to look closer at assignments in school.
But more than anything, Houyoux says, "My favorite thing about orchestra is that I'm always learning new things."