While you can find many high schoolers hanging out with friends or browsing social media, you'd be more likely to find TFS alumna and current Millbrook High School student Mati Roberts volunteering at one of her favorite local non-profits.
"I really enjoy connecting with my local community through volunteering at various places like the Durham Food Pantry, Activate Good and Gigi's Playhouse. I especially love to volunteer at Gigi's Playhouse, an organization where people with Down Syndrome can come together to play, socialize, learn and interact with friends and volunteers," Roberts says. "There are many programs and leadership opportunities I have participated in at the playhouse, including a tutoring program in which I tutored a participant in literacy and a monthly teen-based program called Teentastic. I love bringing in friends and family to help out at Gigi's and it is truly one of my happiest places."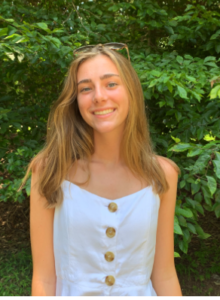 Roberts, who started at TFS as a kindergartener, credits TFS for giving her a foundation of love, faith and empathy that can be applied to any and all stages of life.
"TFS has given me an intelligence both mentally and emotionally that will help me succeed in life," she says. "TFS has also shown me how important community is, and has helped me become more outgoing in my relationships with friends, family, classmates and teachers."
The community she built at TFS, especially with her teachers, is something she treasures to this day. Looking back on her time at the school, she remembers each teacher being supportive, kind and passionate about their teaching.
"My kindergarten teacher, Mrs. Leone, taught me kindness and compassion and was always a happy face in the hallways. My 2nd-grade teacher, Mrs. Walsh, showed me the joy in helping others and still gives me a big hug every time I see her," Roberts remembers. "My 4th-grade teacher, Mrs. Comeskey, taught me how to advocate for myself and how to love learning. Mrs. Finch, my religion teacher, taught me God's love has no boundaries and managed to make each class different and engaging. My 8th-grade science teacher, Mrs. Moser, challenged my knowledge in ways that brought me skills I still use today in high school."
It wasn't just the people that made TFS so special, Roberts says. It was also the memories she built along the way.
"I remember graduation being such an exciting time – the mass, ceremony, dance and reception made me feel so special," she says. "Other fond memories of mine include being called up on my birthday during morning prayer each year – it was always the highlight of my day – and, of course, class field trips. I remember going to Camp Hanes and feeling so grown up since I was able to go on a trip with just my friends and classmates!"
When it comes to what advice she'd offer current TFS students, her message is simple: Embrace it all.
"Embrace and appreciate the teachers, friends, faculty, knowledge and community you are being surrounded with," she says. "You will look back on your time at TFS gratefully and happily, so make some fun memories!"