Each year, a couple of dozen middle school students at TFS put together thoughtful campaigns promising to make important contributions to the school community if they are elected members of the TFS Student Council.
For many, it is their first time taking a more formal leadership role. William Michel, an eighth-grader at TFS, currently serves as student council president. He's participated on the council since sixth grade and enjoys the opportunity to meet new people are serve his school.
This year, 26 TFS students serve as student council members, where they help with important tasks and service opportunities such as facilitating morning prayer, helping with passage home collections, and – one of the school's more popular tuitions – Dollar Dress-Out Day where students can pay one dollar and dress in dress-appropriate clothing that is not the standard school uniform. All money raised from Dollar Dress-Out Days goes to support local charities such as Our Lady of the Rosary Parish, Catholic Parish Outreach and Passage Home.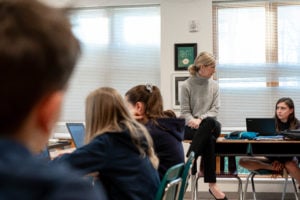 Kristen Dellasega, a seventh-grade teacher at TFS, is currently in her fifth year serving as student council advisor – a position she loves.
"I love getting to interact with middle schoolers in an area where they share an interest and passion, which you may not see while teaching a certain subject," Dellasega says.
While the students enjoy the fellowship and fun of serving on the council, Dellasega also hopes their time on the council enhances certain important character traits, such as leadership, service, responsibility, critical thinking and continued character development.
Michel agrees, and comments on the amount of time and energy he puts into his morning prayer announcements at the school.
Like it has in so many areas, COVID-19 has impacted the way the student council operates. For instance, in traditional years, TFS student council members spend a significant amount of time planning school dances – where they arrange everything from announcements to decorations.
"Unfortunately we can't do dances this year, and we aren't allowed to have our meetings in-person," Dellasega says. "Email has become our lifeline, but it's definitely had an impact on the fellowship aspect of our club."
However, like in many other areas of their life, the pandemic has taught the students to learn to embrace the moment and make the best of it. It's an important lesson that they will carry with them for a lifetime.