As part of The Franciscan School academic landscape, the science curriculum has always played a foundational role in the lives of students inside and outside the classroom.
Coupled with the technology and media programs, The Franciscan School's newly formalized STREAM program (Science, Technology, Religion, Engineering, Arts and Math) will take science to a new level. And while aligning with North Carolina, National, and Diocesan standards is an important component, it is the heart of the teachers that truly brings science to life in a tangible and meaningful way. "I love science and see it in everything around me," shares 6th grade science teacher Karin Kuropas. "I try to share my love and enthusiasm for science and learning in general with the students to help them see how God gave us this great gift and wants us to figure it all out."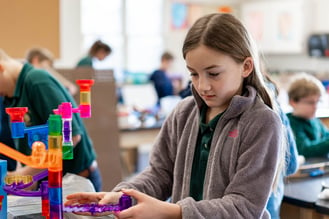 As students travel through elementary school and into middle school, the science curriculum focuses on the three largest areas of science: life science, earth science, and physical science. These areas incorporate science processing, scientific methods, values, and attitudes towards science. While in middle school, students receive hands-on experience through labs, class discussions, videos, independent and group work, and the science fair project.
The middle school science fair project has become something of a legend at The Franciscan School. Teachers and students spend many months preparing for the science fair project. With the support of parents at home, students focus on the scientific method of an area they have interest in, while also incorporating life skills such as proper planning and meeting deadlines. The Franciscan School principal and former 6th grade science teacher, Mike Watson says, "These skills are developed into all classes, but the science fair project really focuses on those skills. The development of critical thinking skills, analytic skills, organization, and time management are tools that will allow students further success in high school, college, and beyond."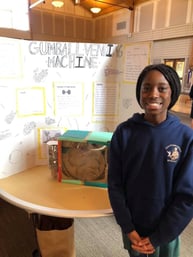 Learning with science is often so much more than the curriculum itself. "Students often come back to visit and say they were prepared in knowledge and writing lab reports compared to their classmates," shares Audrey Harrington, 7th grade science teacher. Harrington, who has been at The Franciscan School for 12 years, likes to introduce science concepts to her students but then have the students apply those concepts in a variety of different ways.
Carolyn Moser teaches her 8th grade students with a similar strategy. In her 16th year at The Franciscan School teaching science, Moser concentrates on variety and differentiation. She custom designs all activities based on the needs of her students and adapts lessons around their strengths and weaknesses. Her attitude is indicative of the environment at a school with a strong faith-based community willing to meet students where they are and challenge them to grow as they learn. "I take my job as a teacher seriously," says Moser. "I work hard to deliver the best instruction possible every single day. This is my responsibility, and I can do nothing less for the children I teach."