For those who have been around collegiate athletes, you may know the discipline, time
management, and physical demands it takes to compete at that level. For TFS alumni Will Brown, it was the difficult moments and his strong foundation that helped shape his faith and succeed as both a collegiate athlete and an engineering student.

Brown started at TFS as a kindergartener and stayed through his 8th grade graduation. He then
continued on at Cardinal Gibbons High School where he realized his desire to both get a solid
education and play football in college. Brown chose to attend North Carolina State University
where we had the privilege of walking on the football team and eventually earning a scholarship.
Brown was part of the Wolfpack family for five seasons, playing cornerback, nickelback, and
safety. He helped support the starting offensive team and often played on special teams during
games.

While Brown was growing up, he had an interest in math and science. In searching for career
paths that allowed him to use his math and science skills, he recognized an opportunity in
engineering. He also spent some time researching African American historical figures in science
and math like inventor Granville T. Woods, which helped play a role in his decision to pursue
engineering. As one of the top engineering schools in the country--and growing up cheering on
the Wolfpack--Brown saw attending NC State as a natural fit for his passions.

But managing the workload of an engineering student and a college football player was at times
challenging. Brown learned about accountability, adversity, teamwork, and how leaning on your faith is critically important. He says, "Honestly, I think God wanted to show Himself to me
through that experience."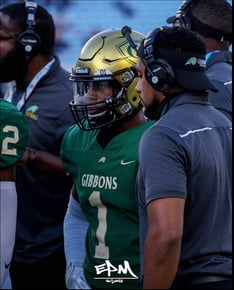 During his nine years at TFS, Brown admits "it was a foundational experience that nurtured me with a lot of people who cared for my well-being." TFS gave him the confidence to believe he had the ability to play sports and be successful. Being new to lacrosse and playing for the middle school team at TFS, he was taught that with discipline and persistence you can achieve your goals. Inside the classroom, teachers like Mr. Mike Watson (at the time a 6th grade science teacher), helped keep Brown accountable. "Whenever we had a question, Mr. Watson
would tell us to find the answer to it and write our name on the board so everyone would know."
Last Spring, Brown had the chance to coach cornerbacks for his high school alma mater football
team at Cardinal Gibbons. He was grateful for the chance to give back and pour into the lives of
those players coming behind him. "They were great kids to coach, and I hope I was able to
leave an impact beyond the field for those players," Brown says.

Brown currently works as a process engineer for the optical communications plant in Hickory, N.C. where they develop fiber optic cables. Brown is enjoying his time and already gaining a lot of knowledge. Brown has many fond and fun memories from his time at TFS. But as he reflects back to those years, he leaves current students with this wisdom: "Every day of your life is a chance to be better than you were yesterday. It doesn't matter what the past was like, just focus on what is in front of you."