The journey to becoming a lawyer can be long and strenuous, but for The Franciscan School
alumni Dan McCrorie, it's his roots at TFS that have prepared him for success."To me, TFS is where I built the foundation for who I am today and who I will be in the future." A decade has passed since McCrorie graduated from TFS, but the many lessons he learned here have stuck with him and helped mold his character.

After graduating from TFS in 2011, McCrorie went on to attend Cardinal Gibbons High School
and UNC-Wilmington where he majored in Finance. In the Spring of 2022, McCorie will graduate from UNC School of Law. He hopes to begin his career at a State Prosecutor's office in North Carolina to develop his trial skills and build his professional resume. "Whether it's complex civil law suits or serious felony cases, I want to be a part of interesting and meaningful cases at the highest level," McCrorie says.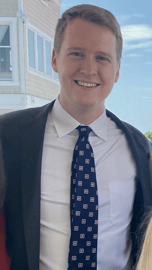 Over the last few years, McCrorie has gained valuable experience interning with both the Wake County and Brunswick County District Attorney offices. He has handled many low-level criminal cases, as well as participated in a felony trial and several district cases. This helped McCrorie understand how the justice system operates, and how it differs from one county to another.
While these experiences have also helped give McCrorie more confidence as an upcoming lawyer, they have also helped him gain an appreciation for law enforcement. "I was able to see how much they do to serve their community," McCrorie says.

McCrorie credits many mentors for helping him pursue a career as a lawyer. These have included family members, friends, business school connections, and a former internship boss. Former TFS teacher and baseball coach Mr. Cadran was an early mentor for McCrorie. And still
having several close friends from TFS has been invaluable to McCrorie: "Being able to recall meeting so many of my friends at such a young age is priceless to me. I went to write out all of their names, but there are too many to count. We have been together now for nearly 20 years and we all value our time at TFS."

McCrorie encourages current TFS students to do the best they can in school, and to also be open to what subject matter they are most passionate about. TFS helps build a strong foundation for all the years beyond it, opening many doors to help students thrive and be successful.